Claire and Mike are both 16 years old and have been dating for two months now. It is Claire's first relationship and she feels very lucky to have found Mark as he has been a very caring boyfriend and he frequently buys her gifts. Recently, however, Mark started to be more intimate with Claire. Initially, kisses started to be more passionate; which was fine with her. But then he started touching her in places she was not comfortable with and was becoming more insistent on moving on to the next stage. Claire was not sure about how to react other than redirecting the conversation to other things and had a lot of conflicting thoughts:
'When he touches me, I start to feel really uncomfortable, is this normal?'
'But he's my boyfriend and he is showing me how much he likes me. Am I being too self-centred?'
'I'm not sure whether I am ready to have sex.'
'I'm afraid that if I ask him to wait, he will be upset at me and perhaps leave me.'
Claire seems very conflicted about what to do, and on the other hand Mike is starting to expect more and more from her. Should perhaps Claire grant Mike's wish and have sex with him? Or should she perhaps be open with him with the fear that he might leave her? At the same time, is it okay for Mark to continue touching Claire despite her evident discomfort; and pushing her to have sex (with the thought that one day she will yield)?
It is perhaps not easy to say no to someone we like. However, we have a right to decide what we want to do with our body and the other person needs to respect that. If the person still persists and does things despite being told not to, then it is sexual assault.
What are Sexual Assault and Rape?
There are different views as to what constitutes sexual assault. In general, sexual assault can be described as a form of violence in which contact of a sexual nature takes place without a person's free and voluntary consent. This may involve a range of behaviours, including but not limited to: unwanted touching and kissing, groping, forcing the victim to touch the perpetrator sexually and penetration. Such behaviours would involve the use of force, coercion, threats or control of the person and/or would be carried out under circumstances that the victim would not have freely agreed to or would not be capable of consenting to. This can result in making the person feel uncomfortable, frightened, threatened or distressed.
On the other hand, rape is a more specific term (that falls under sexual assault) referring to non-consensual sex involving penetration (including oral, vaginal or anal penetration by an object or body part). In other words, the person would be forced to have sex. Sex that took place when the person was unable to give consent is also considered as rape.
It is important to note that anyone can be a victim of sexual assault, no matter their age, gender or sexual orientation. However, certain groups such as, women, are more likely to experience sexual assault over the course of their lifetime. Furthermore, sexual assaults and rape are more likely to be committed by someone the victim knows (such as, acquaintances, family members and romantic partners) rather than complete strangers.
What is Consent?
Consent is the act of agreeing to participate in a sexual activity. This means that there is clear communication indicating a willingness to engage in a sexual activity that is mutually agreed upon. There is no room for doubt or ambiguity. Giving consent and acquiring consent involve setting one's personal boundaries, whilst also respecting the boundaries set by the other person. If things are not clear, it is essential that one checks in with the other person before moving on to the next step. Consent is not important just the first time – couples who already had sex, as well as ones that married or in a committed relationship, all need to consent before sex each and every time.
Planned parenthood (one of the largest providers of sex education in the U.S) came up with the acronym F.R.I.E.S to accurately describe consent. Consent is
Freely Given: It is a conscious decision that one makes without any
external pressure, force or manipulation.
Reversible: One can, at any time, change their mind about what they want to do. Just because one consented to have sex once, it does not mean that the person is automatically agreeing to do it again.

Informed: Both parties have to be honest and follow through what was agreed upon. For instance, if the person says that they will use a condom but then they do not use it, that is not full consent.
Enthusiastic: One should only engage in activities that one wants to engage in; rather than things that one feels expected to do. Both persons have to be really into it.
Specific: Agreeing to one thing (such as, making out with the person in a bedroom), does not signify that the person is saying yes to other things (such as, oral sex).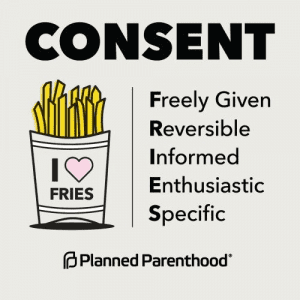 A person cannot agree to engage in a sexual activity if s/he is:
under 16 years of age. In Malta, the age at which one is considered legally capable of agreeing to have sex is currently at 16. The act of having sex before that age (i.e. with a child) would be considered as sexual abuse and is therefore, illegal.

in a mentally impaired state.
intoxicated or incapacitated by drugs or alcohol
asleep or unconscious
being coerced, threatened or intimidated
Unless the person has given a free and clear verbal permission, consent cannot be assumed from seeing that the person:
is silent
is not fighting back
is not saying 'no', but is hesitant

does not protest verbally or resist physically
is saying 'yes' because of pressure, fear, or guilt
Dealing with Sexual Assault
If one has been sexually assaulted, it can be hard to know what steps to take next or where to turn to. A victim of sexual assaulted needs to know that what happened is not their fault and that they do not need to go through this alone. It is important that one seeks support from someone that they can trust such as, family, close friends or professionals who would respect the victim's right for confidentiality. Seeking the right support, rather than keeping this experience to oneself (perhaps due to feelings of shame or guilt) can help the person cope/deal better with the negative impact resulting from this negative experience.
Services available in Malta
Victim Support Malta, in cooperation with the Ministry for the Family, Children's Rights and Social Solidarity coordinates a number of services for victims of sexual assault. These services are collectively referred to as 'Care for Victims of Sexual Assault' (formerly known as SART) and are aimed at providing care which is victim-centred and holistic. The team operates 24/7 on a call basis from Mater Dei Hospital. The services that can be accessed include: a thorough medical check-up (including testing and follow-ups for pregnancy and STDs); police intervention (should the person wish to report the assault); and social work services aimed at assessing the victim's safety and identifying support necessary. Following the services provided at the hospital, all victims of sexual assault are entitled to free counselling and psychological services (which is encouraged given the high levels of trauma experienced that may in turn have an impact one's daily life), as well as free legal consultation or representation, should the victim require support throughout court proceedings. Victims are free to access whatever service/s they wish to avail themselves of. For more information regarding these services visit victimsupport.org.mt/care-for-victims-of-sexual-assault/

Aġenzija Appoġġ (which falls under the Foundation for Social Welfare services) also offers support to victims of sexual assault. They also provide services for perpetrators to modify their behaviour. For more information visit: www.appogg.gov.mt.